Morris Minor Restoration
Home
Modification
Repairers
Service
MOT
Portfolio
Directions
References
Contact us
Gifts
Vehicles
For Sale

Sell your
Morris Minor

Morris Minor Restoration





6 steps to success

1. Professional guidance and advice is on hand but ultimately you are free to specify what you want doing as part of your restoration.


2. Verify our ability by viewing our current work and portfolio of successfully restored vehicles. Tour the premises to be sure your morris is in safe hands.
3. View our references.


4. Get details of the quality and source of the parts needed.
5. We will send you a written estimate of work to be done including a detailed breakdown of parts and their sources.


6. Stop by as often as you like to visit your morris minor during its restoration process. We recommend you bring your camera.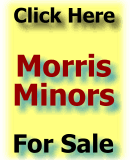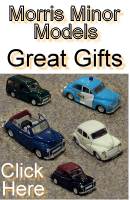 structural underfloor rebuilds

full body rebuilds

base metal repaints

engine overhauls

gearbox overhauls

brakes & suspension

interior refurbishment

timberwork replacement

structural welding

free estimate

spraying

concours restoration