For Sale
Home
Modification
Repairers
Service
MOT
Portfolio
Directions
References
Contact us
Gifts
Vehicles
For Sale

Sell your
Morris Minor

Morris minors for sale
Below is the current list of vehicles for sale.

All vehicles have a new MOT.

When cars are sold they are never left listed as for sale on our site for more than 24 hours.

Find a car you like, give us a call, organise a viewing and make it yours.




Ask for Mick
or email mick@MorrisMinorClinic.co.uk




---
Sorry, currently no inventory. More cars coming soon, watch this space.
Or click here for Morris Minors For Sale .co.uk


---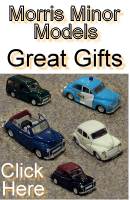 All vehicles sold have a new MOT

We also have a selection of vehicles that are MOT failures etc and can be useful to the DIY person, please phone if you're looking for something of this nature to do as a hobby.



Morris Minors

For Sale


Mick Peeling

Jason Peeling


Reading

Berkshire, UK