Morris Minor Customisation
Home
Modification
Repairers
Service
MOT
Portfolio
Directions
References
Contact us
Gifts
Vehicles
For Sale

Sell your
Morris Minor

Morris Minor Customisation

We are running a reduced staff between March and May, this means we can still accept maintenance and MOT work but are unable to start any large customisation work on your morris minor until June/July (2004).





6 steps to success

1. Professional guidance and advice is on hand but ultimately you are free to specify what you want doing as part of your customisation.


2. Verify our ability by viewing our current work and portfolio of successfully customised vehicles. Tour the premises to be sure your morris is in safe hands.
3. View our references.


4. Get details of the quality and source of the parts needed.
5. We will send you a written estimate of work to be done including a detailed breakdown of parts and their sources.


6. Stop by as often as you like to visit your morris minor during its customisation process. We recommend you bring your camera.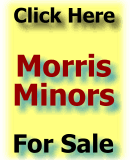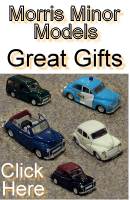 convertible conversions

racing spec

turbo charged morris minor

convertable conversions

racing specification

customised suspension

Berkshire, UK

Mick Peeling

Jason Peeling