12th Classic Marathon Rally
Home
Modification
Repairers
Service
MOT
Portfolio
Directions
References
Contact us
Gifts
Vehicles
For Sale
Sell your
Morris Minor
4th in Class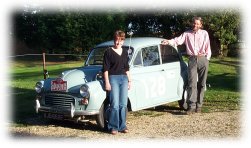 19 year old student Flora Scott and her father Richard of Sulhamstead, near Reading, competed in the 12th Classic Marathon Rally starting at Ypres, Belgium on Monday 11th September 2000 and finished on Saturday 16th September 2000 at San Remo in Italy.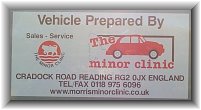 The route took them through Switzerland to Italy crossing the Alps via the St. Bernard Pass. They were number 128 and the only Morris Minor entered in the classic cars up to 1200cc class in a vehicle prepared by the Morris Minor Clinic.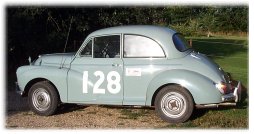 The 6 days went very well. The only maintenance needed was an adjustment of the alternator belt.
They finished very tired after spending an average of 13 hours in the vehicle per day.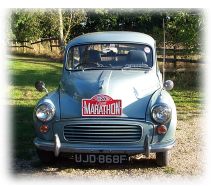 After 6 days driving, they finished 89th out of 150 starters and finishing an ipressive 4th in their class.
Plans are already in progress for the vehicle to be prepared for a more arduous rally in the future finishing in Istanbul.


Read more of their story in Minor Matters - November/December 2000.




Richard Scott

12th Classic Marathon Rally





Flora Scott

4th in Class

Ypres to San Remo

Belgium to Italy